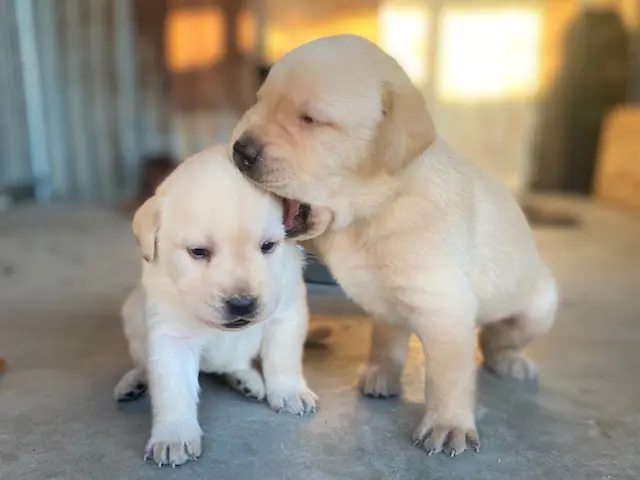 Autumns Puppies are 3 Weeks
Now they are getting CUTE! Their eyes are open, and they are getting about on all (wobbly) fours! We just started the pups on puppy food mush…which, typical labs, they loved! They also got to experience the outside world for the first time. But only for an hour a few times a day, as we still need to make sure they stay reasonably warm. We marked most of there bottoms with a little nail polish to keep track of a few that looked a little weak, but they are all doing great now!
Next week they will get ribbons which will really make them stand out! You will get a starter pack with many things, including puppy food. More info later on that. They are currently on Purina Pro Plan Puppy, chicken and rice. Also, I was asked if I supply a blanket or toy to rub on the other pups and mom for the puppy to take home. I CAN do this, but typically don't. My thoughts are: the sense of smell is so powerful! It triggers so many memories even for us humans. And, I prefer the pups to get busy in their new life, and fall asleep exhausted from all the fun and new experiences! Laying down when they are tired, and being reminded of the life they left behind just slows the process, and can actually make them homesick. Just my thoughts though. If you would like to bring home the scent of the litter and mom, just bring something soft for me to rub on them all.
Finally, if you would LIKE to pay by check, you must send it in THIS WEEK! (postmarked by Saturday) Otherwise, please bring cash at pickup day. (You can have a $25 discount on your balance for paying cash!) Thanks. I will NOT take checks on pick up day, or postmarked after this Saturday, the 16th. )